Golf Themed Baby Clothes

It's never too early to get your little one all geared up for a golf session. Find some cute golf themed baby clothes and get your little golfer ready for fun.
If you love the game then how about passing some of that fun on to your baby? At least you can dress him up like a golfer! Get ready for some compliments with some cool gear.
Take a Spin Around and See More Cuties
Golf Onesies, Shirts and Outfits
Are you ready to start your baby's golf training? Get him or her all ready to go with some cute outfits to keep her cool while she watches you play (or at least to look cute in her crib!). It's never too early to pass on the love for the game of golf!
Pink Golfer's Rule Onesie
Introduce your baby girl to the world of golfing! This little getup will make her cozy, comfortable and show off her new found love of golf! 🙂
See More in the Golf Collection!
Daddy's Caddy Tees and Onesies


Daddy's Little Caddy Kids Tee Shirt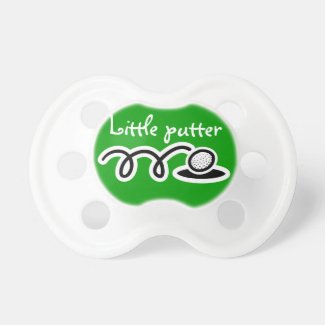 Golf theme baby pacifier / soother / dummy binkie
Baby Golf Socks


Start your gift list early by sharing your favorites!
You Might Also Like These: